Long Strangle Option Strategy
What is a Long Strangle?
Strangle options strategies can be split into two different configurations, long strangle options and short strangle options. We're going to explain the long strangle options strategy and what is required if you wanted to employ this strategy.
When To Use The Long Strangle Option Strategy
A strangle is an options strategy that anticipates higher volatility in an underlying asset price. For example, this kind of strategy could be deployed before earnings where you are not sure of the result but anticipate a move in either direction.
Although this may seem very similar to a long straddle, the difference here is that you separate the strike prices for the two sides of the trade. Although this strategy would be cheaper to use as both options are likely to be out of the money, the move in the underlying asset will need to be more significant to make any kind of profit.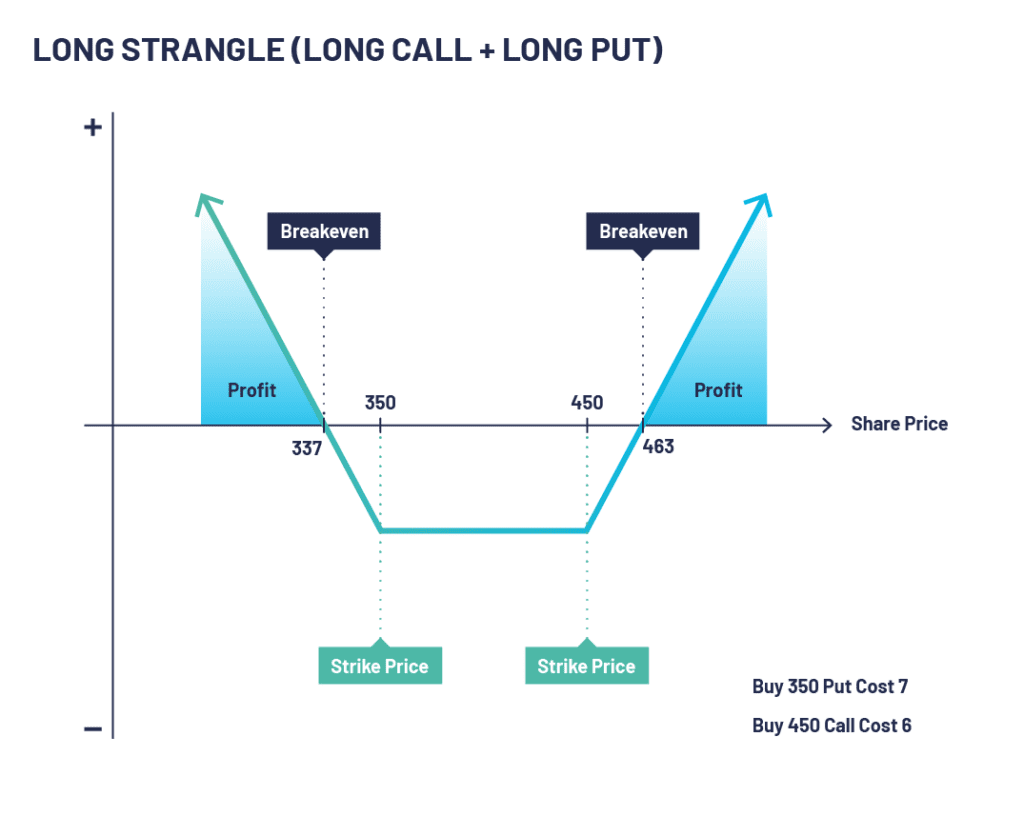 Long Strangle Option Example
Let's look at an example of a long strangle. XYZ PLC stock is trading at 405. An options trader executes a long strangle by buying a 350 put at 7 and a 450 call at 6. The net debit taken to enter the trade is the maximum possible loss (13).
If XYZ PLC stock rises and is trading at 500 on expiry, the 350 puts will expire worthless but the 450 calls expire in-the-money and have an intrinsic value of 50. The same will happen if, for example, the stock was trading at 300 but with the 350 puts having an intrinsic value of 50.
On expiration, if XYZ stock is still trading at 405, both the 350 put and the 450 call expire worthless and the options trader suffers a maximum loss of 13 which is the initial debit they paid when opening the strategy.
Long Strangle Option Summary
CONFIGURATION:
Buy a put with a strike price below the current market price of the underlying asset
Buy a call with a strike price above the current market price of the underlying asset
Both options must have the same expiry date
OUTLOOK:
Anticipates high volatility – you think a move is coming but are not sure which way (a strategy employed before company earnings etc)
TARGET:
The underlying asset moves strongly in either direction
PROS OF THE LONG STRANGLE
Defined risk strategy
Can benefit from a strong move in either direction
CONS OF THE LONG STRANGLE
High-time decay in a neutral market
Premiums can be very high