Long Straddle Option Strategy
What is a Long Straddle Strategy?
Options straddles can be split into two different configurations, a Long Straddle option and a Short Straddle option. We're going to explain the Long Straddle Option Strategy and discuss what you will need to know if you wanted to employ this strategy.
Long Straddle
A long straddle is a strategy in which you buy a call option and a put option, typically at the money, both with the same strike price and expiration. Together, they produce a position that will profit if the stock makes a big move either up or down.
Long Straddle Strategy work best in volatile markets with prices moving sharply in either direction. The best time to buy a long straddle is during quiet trading periods as you will pay less for the two options as their implied volatility will be lower, but with the expectation that more volatile trading conditions will happen in the future (for example due to an increase in geopolitical tensions).
By having long positions in both call and put options, a long straddle can achieve large profits no matter which way the underlying stock price heads, provided the move is strong enough. Given the way that the long straddle is set up, only one of the options will have intrinsic value when it expires, but the investor hopes that the value of that option will be enough to earn a profit on the entire position. This employs unlimited profit with an allowance for limited risk.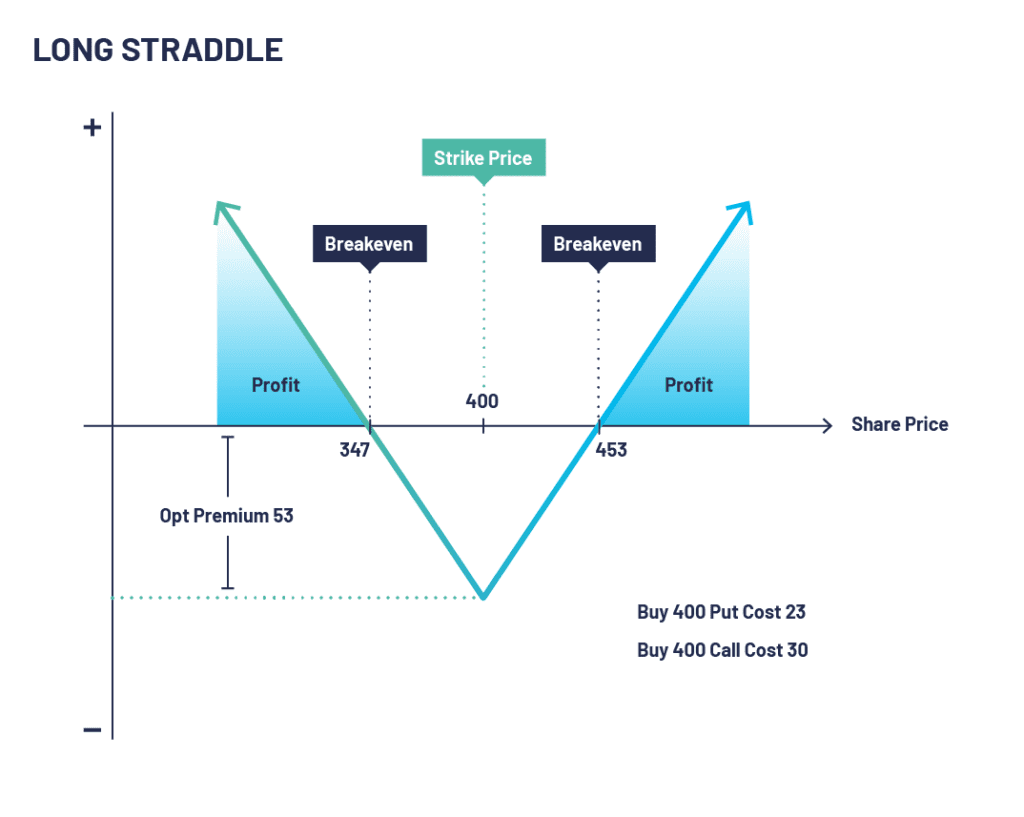 Long Straddle Option Example
Let's look at an example of buying straddle options in XYZ Plc with a strike price of 400 and paying a total of 53 in premium for the two options. The worst-case scenario here is if the stock doesn't move and remains at 400 on expiry meaning the options expire worthless and you lose the 53 per that you paid for the strategy.
On the other hand, if the stock moves sharply in either direction to say, 290 or 510 then you will make a profit of 57 (if the market is at 290) or 57 (if the market is at 510)
Long Straddle Option Summary
CONFIGURATION:
Buy a put with a strike price (typically at the money)
Buy a call with the same strike price as the put
Both options must have the same expiry date
OUTLOOK:
Anticipates high volatility – You think a move is coming but are not sure which way (a strategy employed before earnings statement etc)
TARGET:
 The underlying price moves strongly in either direction
PROS OF THE LONG STRADDLE:
Defined risk strategy
Can benefit from a strong move in either direction
CONS OF THE LONG STRADDLE:
High-time decay in a neutral market
Premiums can be very high