What is a Protective Put?
This can be thought of as an insurance policy. This is commonly deployed when you own the underlying asset but feel the price may go down and wish to protect your position in an event of a downturn or uncertainty. The main goal is to limit potential losses from an existing position. This is also known as a synthetic long call as once in place its risk/reward is the same as a long call. If the stock and the put are bought at the same time, this can be referred to as a married put but essentially works the same.
If you buy a protective put, you have control over whether to exercise your option or not at the strike price you chose.
Adopting such a strategy does not cap your potential profits. The profits from the strategy are determined by the growth potential of the underlying asset itself. However, a portion of the profits is reduced by the premium paid for the put option.
With this in mind, this strategy will create a limit for potential losses as any losses in the stock position below the strike of the put option will be compensated by profits in the option.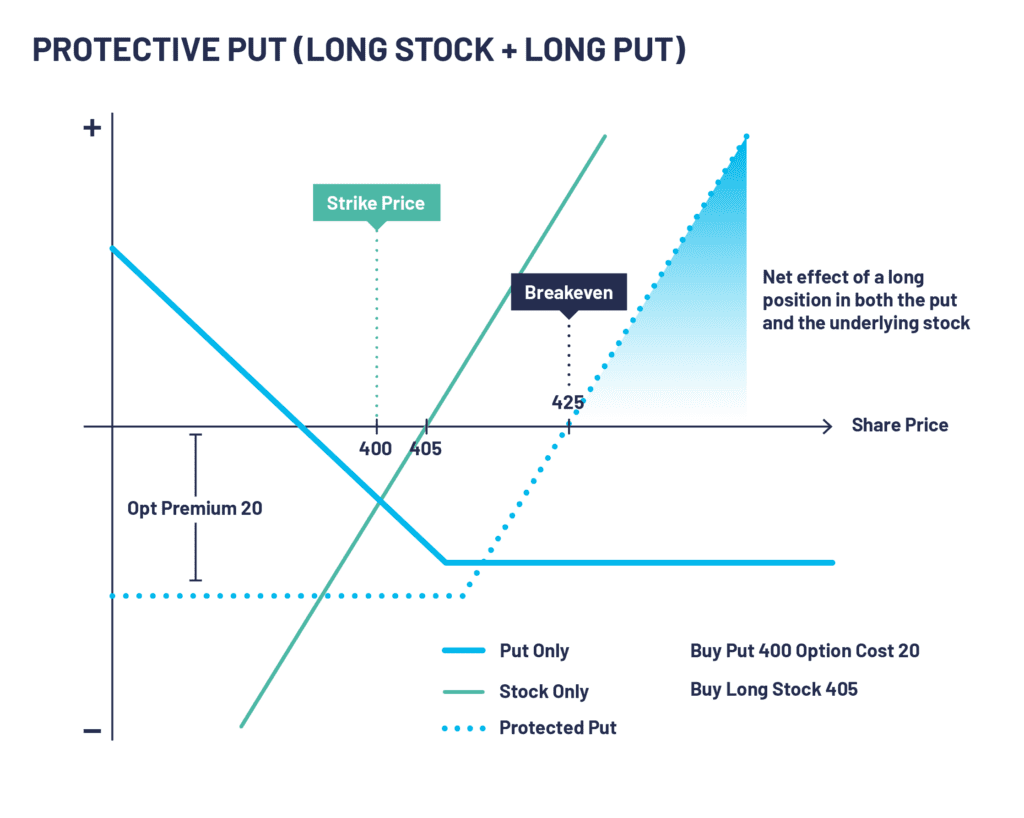 Protective Put Strategy Example
You own shares of XYZ PLC, with each share valued at 405. Even though you feel the value of these shares may fall in the short term, you want to keep ownership of them for a number of potential reasons (eg they pay a good dividend; you don't want to crystallise a capital gain; they are a good long term hold). Therefore, instead of selling the shares you buy a protective put to hedge against the risk of a decline in their price, with a strike price of 400. The premium of the protective put is 20.
Share price rises above 420
If the share price goes beyond 420, you will experience a gain in the overall position as your breakeven point was the stock price paid plus the premium paid for the option
Share price between 400 and 420
In this scenario, the share price will remain the same or slightly rise. However, you will lose money in the form of the premium you paid for the protective put option itself
Share price below 400
In this scenario, you have the right, but not the obligation to exercise the protective put option to limit the losses. Once the put is exercised, you will sell your shares at 400. Thus your loss will be limited to 25 as your net selling price will be 380 (400 -20 option premium)
Protective Put Summary
CONFIGURATION:
If the underlying asset is currently owned
Buy a put with a strike price near the underlying asset's current market price
OUTLOOK:
Longer term bullish but uncertain of the future
TARGET:
Stock to rise and your option to expire worthless. You can enjoy the profits on your stock position
PROS OF THE PROTECTIVE PUT
Defined risk strategy
Caps potential losses on your underlying asset
CONS OF THE PROTECTIVE PUT
Can be relatively expensive at the outset
Check out our related articles