05-12-2022
Last week (01/12/22), Fed chairman Jerome Powell indicated that the Fed intends to moderate the pace of rate increases with the caveat of potentially keeping them high for a sustained period, in his own words; "History cautions strongly against prematurely loosening policy." This combined with negative manufacturing data had caused the largest daily gain in two years for Gold Futures.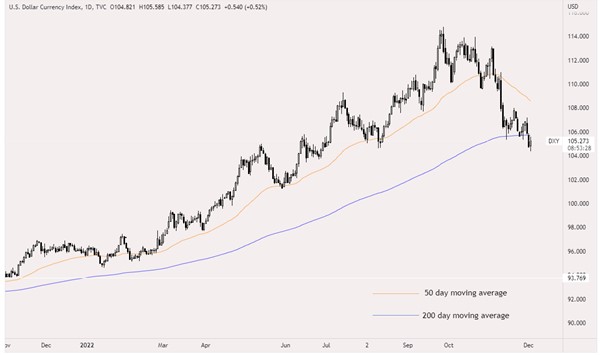 DXY (Dollar Index)
To further add to its shine, global central banks have bought a record amount of Gold in Q3, exceeding 399 tonnes.
After witnessing incredible dollar strength for the past year, the DXY (dollar index) was down 2.5% last week and is now trading below its 50- and 200-day moving average.
If this is a preliminary sign of a reversal of the dollar being a safe haven, then history tells us precious metals will be a favoured alternative.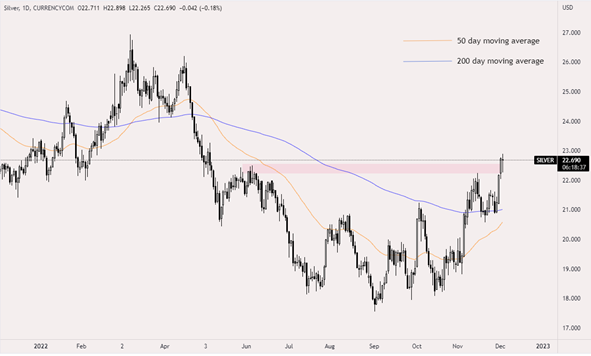 Silver
To profit from this you may consider buying call options on a Precious Metal Future or an ETF.
In recent weeks we have seen some of our clients profiting from buying SLV call options (Ishares Silver Trust) which is an ETF that tracks the price of Silver.
Like Gold, Silver has also been gaining bullish momentum finally breaking out of its May22 $22 resistance level, whilst still trading 20% below its year high.
Long OTM Call Spread
Share price: 21.08
buy
10 SLV Jun23 22 Call @ $1.66
sell
10 SLV Jun23 25 Call @ $0.89
Trade Idea
Bullish Silver ETF (SLV)
Buy 10 SLV Jun23 22 Call @ $1.66
Sell 10 SLV Jun23 25 Call @ $0.89
Initial outlay: $0.77 per lot ($0.77 x10 x100 = $770 total outlay for 10 lots)
Maximum Profit $3,000
Maximum Loss $770
Net profit: $2,230 ($3000 – $770)
(Prices correct as of 02/12/22)