19-04-2023
Tesla's recent announcement of record car delivery numbers may not necessarily translate into favourable earnings for the company, owing to the impact of price discounts offered in late 2022. During the fourth quarter of the same year, the automotive gross margins declined to 25.9%, marking the weakest performance over the past five years. Additionally, cash flows from operating activities dipped by 28.5% compared to the previous year, a trend that indicates that the company's earnings may witness a significant decline if projected sales growth is not achieved. 
In terms of market performance, it is uncertain how Tesla shares will react to the upcoming earnings report, given that the shares have already dropped by ~11% following the announcement of quarterly deliveries of 422,875 units on April 2. As seen on the chart, Tesla failed to surpass the orange trend line, signalling the failure to achieve a higher high, with the next support level expected to be around $163. If the market reacts negatively to the earnings report, we may well see the share price struggling to maintain the support level.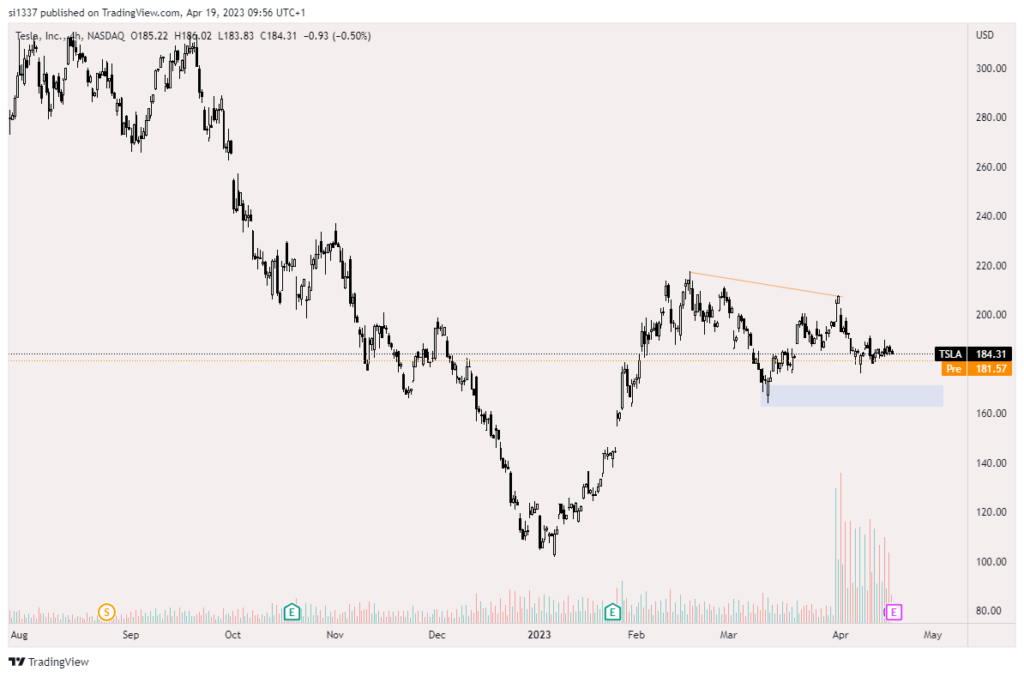 If you already hold Tesla stock and are concerned about a potential price decline, using a put spread can provide downside protection. This could be done by buying a put option at a higher strike price to limit your potential losses if the stock price falls, while also selling a put option at a lower strike price to offset some of the cost.
Alternatively, if you do not hold the stock and are simply bearish, and you do not want unlimited downside risk from shorting the stock, then you could profit from a down move with your risk limited to the cost of the put spread.
Put Spread
Stock price: $181.50
buy
Apr23 180 Put for $4.60
sell
Apr23 165 Put for $1.00
SUGGESTED TRADE
PROTECTION FROM A DOWNWARDS MOVEMENT
Net cost of $3.60 ($360 per 1 lot of 100 shares) 
Max Profit: $1140 
Max loss: $360