Anticipating Apple's Earnings: Protection and Opportunities
31-07-2023
Apple is scheduled to announce its quarterly financial results this week. The tech behemoth has seen a remarkable uptick in its stock, with an almost 50% surge in value just this year. This uptick has propelled the company's market capitalisation past the $3 trillion mark, positioning it near its all-time peak.
Michael Ng, an analyst at Goldman Sachs, holds a positive outlook for Apple. Ng anticipates that the earnings Apple will report exceed the consensus estimates analysts have proposed.
Ng acknowledges the 48% year-to-date increase in Apple's stock value, driven solely by the expansion of its valuation multiple. He understands the apprehensions investors might have regarding valuation and the potential downside risks. Yet, he maintains an optimistic stance.
Ng believes that the expanding user base of the iPhone is key to the company's sustained growth. He suggests that this growing consumer base lays the groundwork for an increase in monetisation per user. This is largely attributed to Apple's products' rising ASP (average selling price). His forecast suggests that as more users come on board, the company's revenues will proportionately increase, primarily driven by the premium pricing of its products. In conclusion, while some express reservations about Apple's current valuation, others like Ng perceive robust potential for further growth.
As we approach the earnings announcement, opinion is divided among financial analysts and investors. Some are questioning whether Apple's shares, alongside those of its tech industry counterparts, have been overvalued or excessively bought up. This sentiment arises as a response to the current stock values exceeding what some believe to be reasonable expectations for the company's earnings.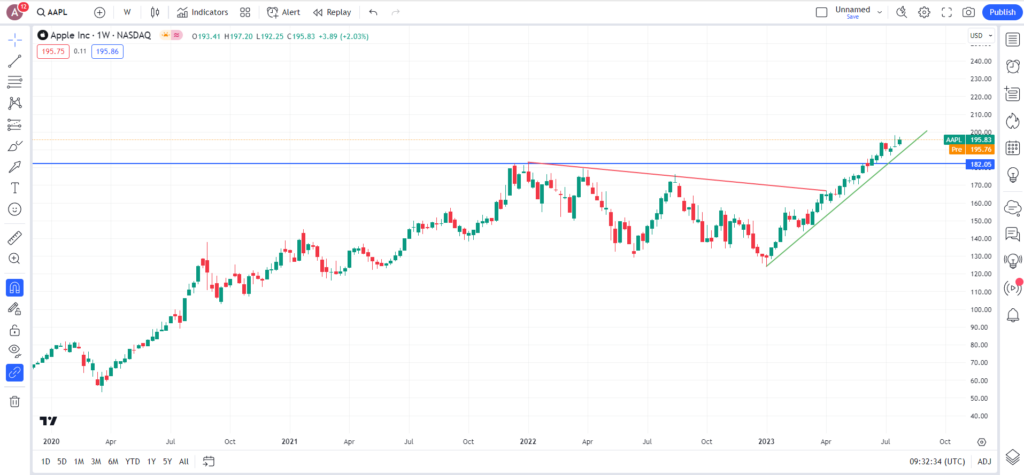 Chart Displaying Apple
If you are bullish on Apple and have a view in line with Goldman's analyst, you could buy a short-dated call option. If the stock price rises significantly, you could close out the position for a leveraged return; or hold the option to expiry and take delivery of the stock at the option strike price.
Buy a Short-Dated Call
buy
+1 11th Aug 200 Call @ $2.22
Trade Idea
+1 11th Aug 200 Call @ $2.22
(100 x $2.22 = $222)
(Total outlay $222)
If you hold the stock but are worried that earnings may disappoint and result in a short-term pull-back, or just think Apple's shares are overvalued and may drop after the earnings announcement, you could consider buying a short-term put option. If the price were to drop significantly, this would offer a hedge to your holdings if you own the underlying stock, or a leveraged return if you can close out the option at a profit.
Buy a Short-Dated Put
buy
+1 11th Aug 190 Put @ $1.75
Trade Idea
+1 11th Aug 190 Put @ $1.75
(100 x $1.75 = $175)
(Total outlay $175)