Walmart's Third-Quarter Earnings: Expectations and Market Performance
14-11-2023
Walmart is set to announce its third-quarter earnings before the U.S. market opens on Thursday at 7:00 AM ET. The company, which operates over 5,000 stores across the U.S., is widely anticipated to report better than expected earnings based on an analysis conducted by InvestingPro.
The expected revenue increase is attributed to robust grocery sales and growing subscriptions to its Walmart+ membership program. Same-store sales and e-commerce spending, which grew 6.4% and 24% respectively in the previous quarter, are also projected to surpass estimates, driven by strong consumer demand and increased orders for store pickup and delivery.
Walmart's performance has been consistent, with the company exceeding Wall Street's top-line expectations for 14 consecutive quarters since Q1 2020 and only missing profit estimates twice during this period. This track record highlights the resilience and strength of its business model.
The options market indicates a potential movement for the stock following the earnings report. Despite the challenging retail environment marked by high inflation and recession concerns, Walmart's strategy and adaptations to changing consumer behaviours are expected to contribute positively to its upcoming financial guidance.
The third-quarter update will offer insights into Walmart's market share in the food and grocery sector, as well as its overall business strategy in the current economic climate. CEO Doug McMillion is likely to provide guidance on the company's outlook, considering its recent performance and the broader retail environment.
If you agree with the analysis conducted by InvestingPro and believe in Walmart's strong track record the following examples illustrate the gearing options can give you compared to just buying the equity outright.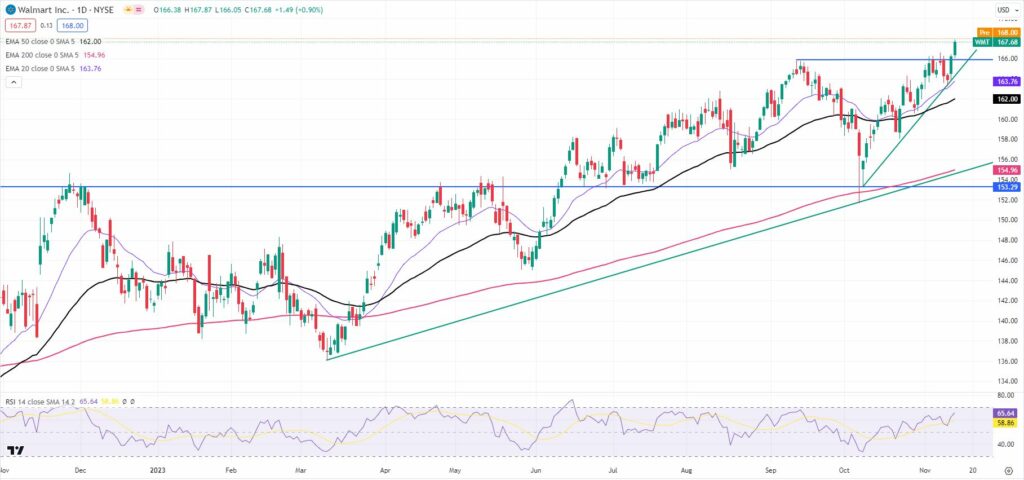 Technical Analysis
Walmart is nearing its all-time highs @ $166.66 currently trading at 166.42.
The trend for this stock is firmly in an uptrend as it makes new highs for its ascent, highlighting that this market is in control by the bulls.
The price is now trading above the 20-day, 50 day and 200 day EMAs, which can be viewed as a bullish indicator of the strength of the trend. In addition, momentum is still rising, and the RSI has not yet signalled this stock is overbought as the RSI is still not above 70. This too could suggest there could be further upside.
Call Option
buy
BUY 10 Nov23 165 Call @ $3.60
Trade Idea
LONG At the Money (ATM) CALLS
$3.60 x 5 Contract 100 shares underlying
Total consideration $1800
Buying this option gives you 46 times leverage compared to buying the shares outright. Trading this strategy is a defined risk strategy meaning you can only lose the initial debit paid for the options.
Call Option
buy
BUY 25 Nov23 172.5 Call @ $0.70
Trade Idea
LONG Out the Money (OTM) CALLS
0.70 x 25 contracts x 100 shares underlying
Total consideration $1,750
Buying this option gives you 237 times leverage compared to buying the shares outright.
It's always mindful to consider that the further the out the money you buy, the more the underlying stock will need to move for your trade to be profitable.
There are strike prices every $2.5 on Walmart options, so you can tailor your payoff profile with the option strike that best suits your outlook.