Vodafone's Shares Rally from 26-Year Low: A Look at the Q1 Trading Update
24-07-2023
Vodafone shares have fallen 14% in 2023 to a low 72.85p. The shares have seen a mild recovery from the lows. Today's Q1 trading update saw a little positivity in the stock, seeing its shares trading 4.7% higher at 77.02p. Vodafone's group service revenue grew by 3.7% driven by firm demand alongside annual price increases in the UK. Moreover, the market took kindly to seeing an improvement in the rate of decline in their European markets.
Vodafone's Chief executive Margherita Della Valle commented.
"As we progress our plans to transform Vodafone, we have achieved a better service revenue performance across almost all of our markets. We have delivered particularly strong trading in our business segment and returned to service revenue growth in Europe. Looking ahead, we have taken the first steps of our action plan focused on customers, simplicity, and growth, but we have much more still to do."
Today's price action has seen its share breach a previous resistance of 74p. In addition, this is a breakout of a trend reversal pattern, double bottom reversal. The lows of this move have taken Vodafone's shares to a 26-year low finding support at 70p, prices not seen since October 1997. Since the double test of this support zone prices have rallied 10%. This could be a potential shift in the underlying down trend.
The daily chart highlights this reversal pattern, furthermore we can see additional bullish indicators. Currently the RSI is rising but we have also witnessed bullish divergence suggesting that the recent fall in prices maybe over done to the downside. With today's 4% rise we have seen price breach the 74p resistance overcome the 23.6% retracement of the fall in price from May and lastly, prices gapped up this morning from Friday's close on the back of this announcement showing firm demand from the open. Should the bulls gain control of this market a measuring objective of the double bottom pattern sits at 82p.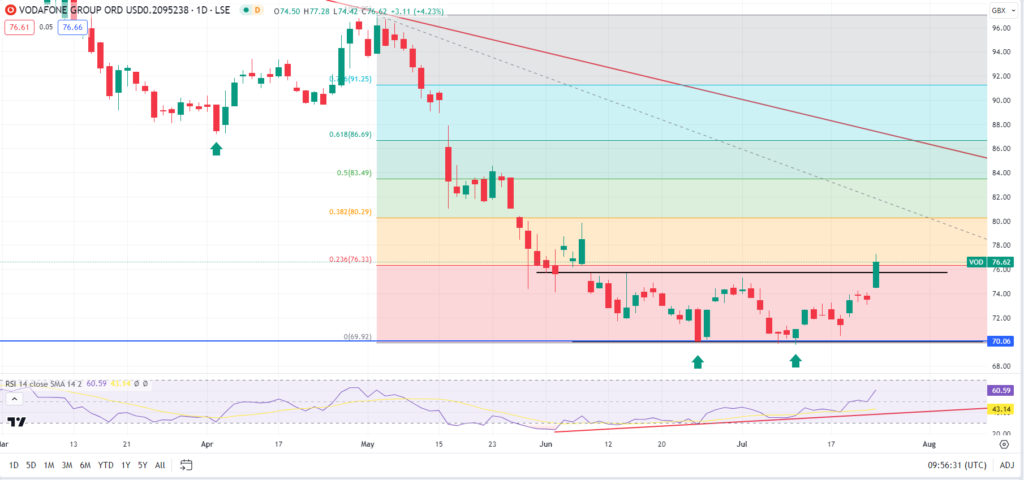 Should you believe that Vodafone will continue the bullish momentum a suggested strategy could be to buy an at the money call spread.
Call Spread
buy
20 September 77 calls @ 3.25p
sell
20 September 87 calls @ 0.75p
Trade Idea
Buy 20 September 77 calls @ 3.25p (1000 x £650)
Sell 20 September 87 calls @ 0.75p (1,000 x £150)
Net Debit £500
Potential profit £2000 – £500= £1500