Tesla's Profit Margins and Strategy Amid Q3 Challenges
17-10-2023
Tesla are due to report on their earnings this Wednesday (18/10/23) and could face a potential drop in its profit margins for the third quarter with even greater challenges anticipated in the final quarter of 2023. This has raised concerns among investors who fear that further price reductions may be necessary to stimulate demand.
In response to the current high-interest rate environment and increased competition from China's BYD, Tesla has willingly sacrificed some of its profitability to bolster sales of its existing vehicle lineup. Thomas Martin, a senior portfolio manager at Globalt Investments, a Tesla shareholder, expressed his view that the need for price reductions may persist due to ongoing weak demand.
Investors are eagerly awaiting insights into CEO Elon Musk's strategy to ensure that Tesla can achieve its ambitious target of delivering a record-breaking 476,000 vehicles in the fourth quarter, to meet its annual goal of 1.8 million units.
Tesla has already initiated price reductions in the United States for its Model 3 compact sedan and Model Y SUV in October. Additionally, last month saw price cuts on its premium S and X models, alongside the introduction of a restyled Model 3 with an extended driving range in select markets.
The price competition, which involved reductions exceeding 6% across various models during the July-September period, is expected to have pushed Tesla's profit margins down to approximately 18.1%, excluding regulatory credits. This estimate is based on a survey of nine analysts conducted by Visible Alpha.
Wells Fargo analyst Colin Langan predicts that the margin decline will persist into the fourth quarter, possibly causing margins to dip below the 15% mark.
In addition to TSLA earnings, the financial markets are expected to closely monitor a lineup of Federal Reserve speakers scheduled for this week. Thursday (19-10-23) features Chairman Jerome Powell addressing the Economic Club of New York. This speech will take place shortly after the release of weekly jobless claims data, which is once again anticipated to highlight the overall strength and inflationary pressures in the job market. The previous occasion on which Chairman Powell addressed the state of the economy resulted in a negative market response, characterised by significant selloffs across major technology stocks.
Technical Analysis
TSLA price action is leaving investors a little undecided, this could change with its earnings report later this week.
Currently TSLA's share price is converging at the top if its counter trend forming a triangle formation, typically these patterns are continuation patterns however they can sometimes be prone to break to the downside.
Price is above its 200-day EMA and is holding the current rising counter trend move.
The converging price action is indicative of market uncertainty which is consistent with the market awaiting earnings to price in fresh information.
Key resistance
Key support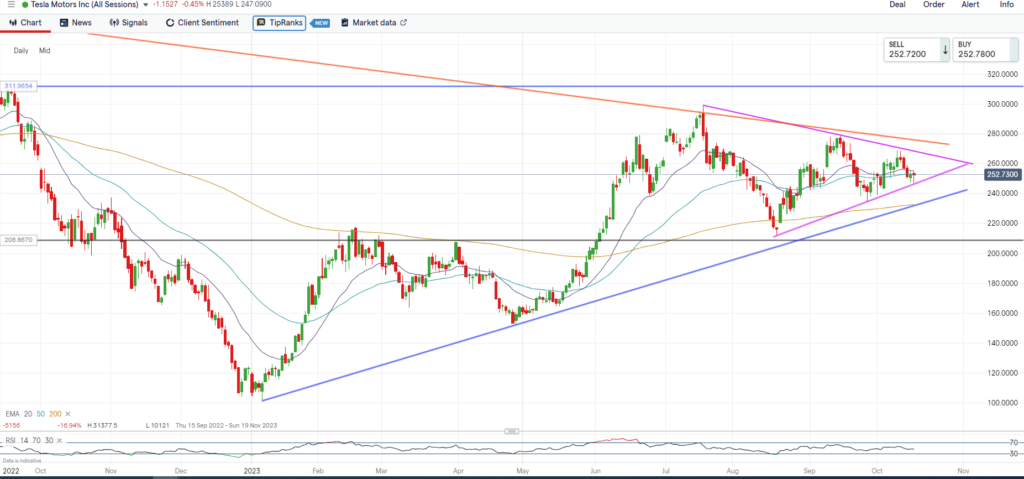 If you already hold Tesla stock and are concerned about a potential price decline, using a put spread can provide downside protection. This can be done by buying a put option at a higher strike price to limit your potential losses if the stock price falls, whilst also selling a put option at a lower strike price to offset some of the cost.
Alternatively, if you don't currently own the stock and are bearish, but you want to avoid the potential for unlimited losses associated with shorting the stock, you could also use this put spread to potentially profit from a downward price movement while capping your risk to the cost of the put spread.
PROTECTIVE PUT SPREAD
buy
BUY 1 Nov23 255 Put for $15.45
sell
SELL 1 Nov23 235 Put for $7.35
Trade Idea
BUY A PUT SPREAD
Stock price: $252.28
SUGGESTED TRADE
PROTECTION FROM A DOWNWARDS MOVEMENT
Net cost of $8.10 ($810 per 1 lot of 100 shares)
Max Profit: $1,190
Max loss: $810
SELL AN IRON CONDOR
For the more advanced trader, the following strategy can be employed when you believe the market has already priced in the downside and expect the stock to move sideways. The prices of the option will also be more attractive as volatility tends to increase on the run up to an earning's report so buy selling into this event you can capitalise on this increase.
This strategy is selling an At The Money (ATM) straddle but also buying a leg above and below each of the strikes to stop the strategy having unlimited risk.
The most you can make is the initial credit taken, so as time passes the value of the spreads start to erode and the longer the underlying stays in and around its current level the cheaper the cost to close the strategy and crystallise your profit.
The worst-case scenario for this strategy would be for the stock to go above 275 or below 235 this would mean losing the full value of the spread at $20 x 100 shares underlying. But having taken in your initial credit of $1,580 the loss would be limited to $420
SELL IRON CONDOR
sell
SELL 1 Nov23 255 Put for $15.45
buy
BUY 1 Nov23 235 Put for $7.35
sell
SELL 1 Nov23 255 Call for $14.30
buy
BUY 1 Nov23 275 Call for $6.60
Trade Idea
SELL IRON CONDOR
Stock price: $252.28
Max Profit: $1,580
Max loss: limited to the price of the spread minus the credit taken in
$2,000-$1,580 = $420