Tesla's First Cybertruck Production Coincides with Anticipated Q2 Results
17-07-2023
Investors are preparing to analyse Tesla Inc.'s second-quarter results due to be released on Wednesday. The tech giant's financial performance is always a subject of keen interest, and this time is no different. The upcoming announcement is further augmented by a significant development from the company.
Tesla reported the production of its first Cybertruck at the company's electric vehicle (EV) plant in Texas over the weekend. This news comes four years after Elon Musk, Tesla's founder, first introduced the Cybertruck prototype.
The production process has faced multiple complications resulting in delays. Musk has previously attributed these to a shortage of necessary components and sourcing difficulties, issues affecting many sectors globally. These challenges have led to keen anticipation among investors and the wider market for the Cybertruck's official entry into Tesla's product range.
During a shareholder meeting, Musk stated that Tesla aims to produce 250,000 units of the Cybertruck per year, a target based on projected demand.
The forthcoming week is crucial for Tesla with the release of the Q2 results and the production of the first Cybertruck. With its stock up nearly 130% this year Tesla has seen investors react both to AI-related hype around its self-driving capabilities as well as strong vehicle delivery figures and the rapid expansion of its Supercharger network with industry competitors. Focusing on NON- GAAP earnings will indicate how recent price cuts are impacting Tesla's profits.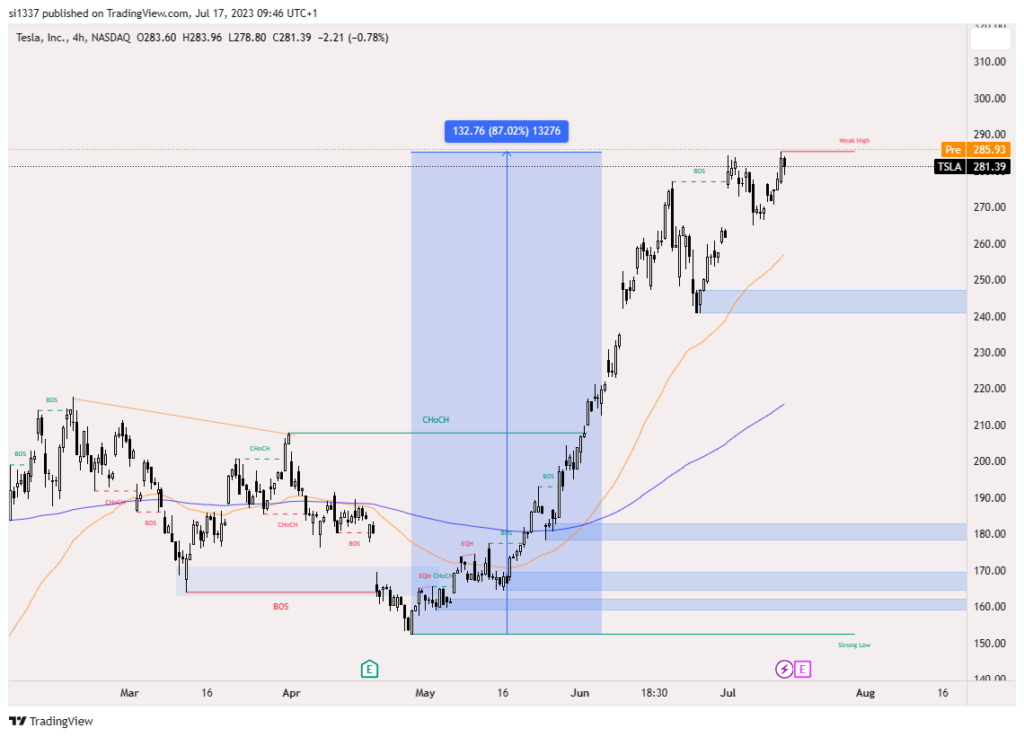 If you foresee potential upward movements due to better-than-expected results, and equal possibilities for downward moves possibly due to the profit margin impact from price cuts, then you may consider executing a strangle strategy. This involves buying both a call and a put option, allowing you to profit from a market shift in either direction.
Long Strangle
buy
TSLA Jul23 280 Put for 10.30 ($1030 per lot)
buy
TSLA Jul23 290 Call for 9.80 ($980 per lot)
Trade Idea
+ 1 TSLA Jul23 280 Put for 10.30 ($1030 per lot) 
+ 1 TSLA Jul23 290 Call for 9.80 ($980 per lot) 
Net cost: $2010 per 1 lot 
This strategy has an unlimited profit potential, and the maximum risk is the cost of the strategy ($2010 for a 1 lot trade)