Royal Mail Fails To Post A Profit
19-10-2022

 
Royal Mail, now known as International Distribution Services, shares have taken a beating over 2022. The shares have fallen 67% from a high of £5.31 to a low of £1.74. Many factors have driven the decline of the shares including rising input costs and the pressures of industrial action from The Communication Workers Union.
On Friday 14/10/22 IDS released its trading update highlighting an operating loss of £219 million, of which £70 million was attributed to the impact of industrial action. This saw the shares fall as much as 16% on Friday to their lowest since September 2020. The shares closed at 187.75p.
Looking at the technical picture, the battering the shares have had over the last month is reflected in the RSI, which is close to 30. This indicates that the shares may have been oversold, potentially presenting an opportunity to buy. However, if an investor feels that the threat of further industrial remains and the shares could fall further, but feels they may strengthen in the medium/longer term, then options could be a way to gain exposure.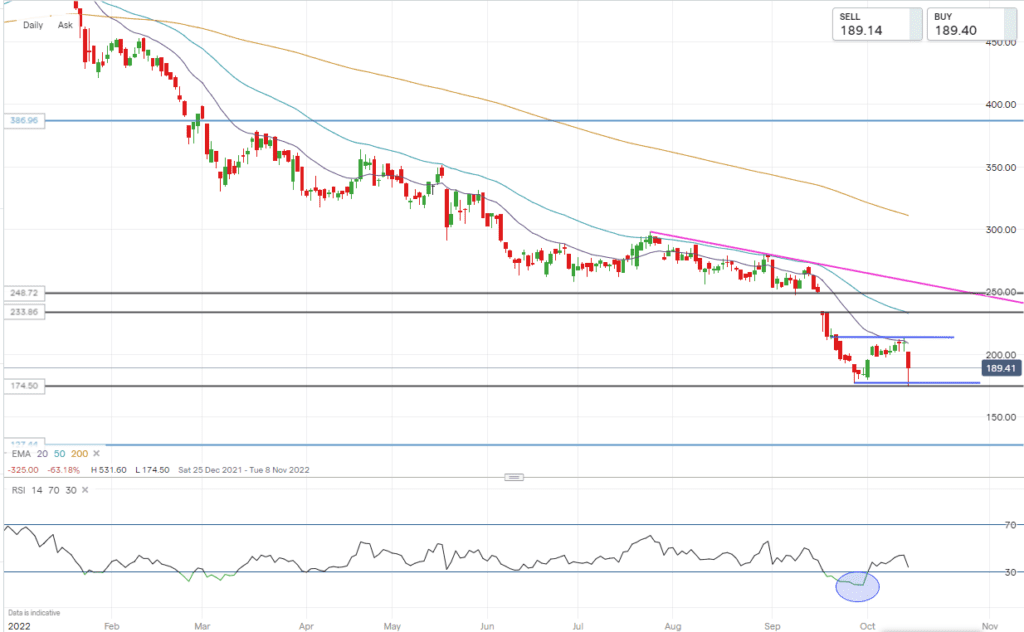 If you are bullish now you could simply buy and hold the shares, and ride out any short-term volatility, but this could be relatively expensive as you would have to pay the full price of the shares.
An alternative is to use options to gain some medium-term exposure basis at today's low price.
Buy a Call
IDS 187.75p
buy
September 2023 200 call @ 27.25p
Trade Summary
International Distribution Services shares trading at 187.75p.
Buy a September 2023 200 call at 27.25p.
Let's break down the trade.
At a cost of £272.5 per lot, 1 lot equates to 1000 shares or less than 15% of what it would cost to buy the shares outright. This is therefore a leveraged way to gain exposure to a share without committing the total capital to the trade. The added benefit is that if the shares do fall sharply you don't end up holding a share position that has fallen in value. The maximum you can lose on this trade over the life of the option is your premium paid of £272.5.
A longer-dated option grants the investor a longer time horizon to potentially achieve their view of the stock. This gives this trade almost a year for the company to solve the industrial action and turn around its fortunes.