Nvidia Q3 Earnings: High Stakes Amid Market Volatility
20-11-2023
Nvidia, a leading chipmaker, is set to announce its financial results for the third fiscal quarter after the stock market closes on Tuesday, November 21. The company has stood out in the S&P 500, achieving an impressive annual growth of over 244%, which significantly outperforms the S&P 500 Index's year-to-date increase of 18%. Analysts are optimistic about Nvidia's Q3 performance and foresee further growth in its stock value.
Goldman Sachs analyst Toshiyari Hari predicts robust Q3 outcomes for Nvidia and expects positive forward-looking guidance. He views the stock as having a favourable risk/reward balance at its current price. Hari notes that Nvidia's Data Center and Gaming divisions are likely to show strong performance. He anticipates a 20% sequential rise in Data Center revenue to $12.4 billion and a 14% increase in Gaming revenue, reaching $2.82 billion.
However, there are points of interest regarding Nvidia's upcoming fiscal third-quarter results including how the expanded U.S. restrictions on sales of its advanced chips to China might affect its recent success. In the previous month, the Biden administration prohibited the sale of Nvidia's H800 and A800 chips to China, following earlier export restrictions to the country. China represents Nvidia's third-largest market and contributes over one-fifth of its total revenue.
These results are also crucial for evaluating the impact of the AI-driven surge that has significantly boosted the U.S. stock market this year, exemplified by the Philadelphia semiconductor index's nearly 50% rise in 2023.
Kyle Rodda, an analyst at Capital.com, highlighted the importance of market perceptions regarding Nvidia's dominance. He pointed out that any factors influencing these perceptions, whether related to business performance or risks in key markets, could dampen investor enthusiasm.
The company's continued release of new products, efforts to mitigate supply chain challenges, and sustained growth in the Data Center and Gaming sectors are key factors supporting Nvidia's robust performance, but investors will be keeping an eye out for any news or figures that could dampen the tech giants recent market surge.
If you think there could be a significant rise in Nvidia's stock price should it exceed expectations, but that there may be a significant sell-off if it fails to meet these lofty expectations, then you could buy by an options straddle to take advantage of a significant price move in either direction. The straddle aims to profit from an increase in market volatility. A long straddle is a strategy in which involves buying a call option and a put option, typically at the money, both with the same strike price and expiration.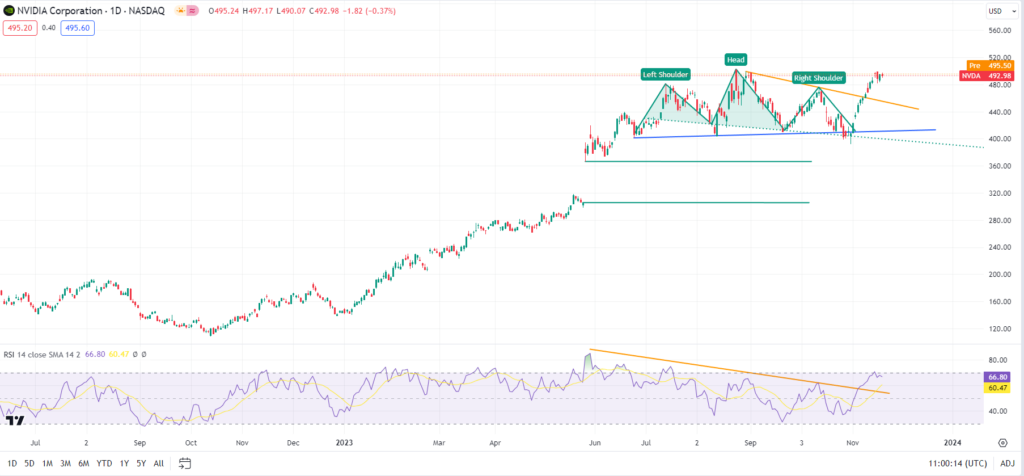 (Chart 1: Nvidia chart Displaying a negated head and shoulders pattern, with prices trading at near all-time highs. The relative strength indicator at the bottom displays potentially over bought territories)
Long Straddle
buy
1 24th November 495 Call @$18
buy
1 24th November 495 Put @$20
Trade Idea
Long Straddle
Gross price: $3800 per 1 lot
(100 shares per contract underlying)
Max profit: unlimited
Max loss: $3800
If you believe that there will be a big move in the market around Nvidia's earnings – in either direction – then you could opt for a short dated long straddle to gain exposure to the volatility.