Microsoft's Steady Growth and the Potential Impact of AI Initiatives on Its Market Valuation
24-07-2023
This year Microsoft, a prominent player among large-cap tech stocks, has outperformed its peers. The company's shares have seen an approximately 45% surge in value throughout the year. Despite the stock's current stagnation, there is still strong investor interest in Microsoft. 
Financial analysts have expressed strong optimism regarding Microsoft's potential to translate key growth triggers into increased profitability and revenues over a long-term horizon. Recently, analysts from Goldman Sachs echoed their peers' sentiments, setting a price target of $400 for Microsoft's shares. The upward adjustment in valuation is largely due to the projected increase in sales and profits from the company's focus on artificial intelligence (AI). 
At $400 per share, Microsoft's valuation would be close to $3 trillion, marking it as only the second U.S. company to achieve such a valuation. This price target carries more of a symbolic significance than anything else. 
The target price increase from $350 to $400 has sound reasoning behind it. 
The recent announcement of Copilot, along with Microsoft's strategy centred on AI, form critical elements of the bullish narrative analysts have about the company. They predict a user base of nearly 380 million users, each paying approximately $30 per month. This implies a total addressable market (TAM) of about $11.4 billion, or slightly over $135 billion annually. 
If the analysts' forecasts are accurate and Microsoft can persuade 15%-30% of its users to embrace Copilot, this technology could alone yield tens of billions in annual revenue for the company. Given the current profit margin levels, this would significantly enhance Microsoft's bottom line. 
It's anticipated that Microsoft's Cloud division will persist in its 20% yearly growth in the upcoming years. Additionally, the regular revenue and stability provided by the company's core software business underpins the stock value. 
In summary, Microsoft's offering is growing, and they are a reliable player in the tech sector. If performance indicators improve in the upcoming quarters, a $400 price target may appear conservative in retrospect.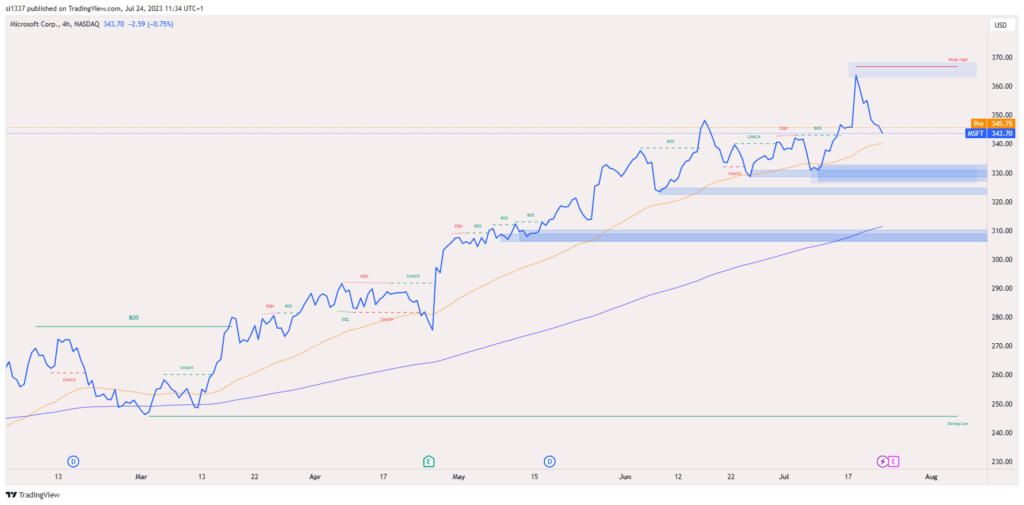 MSFT – 4 hr line chart with highlighted support zone. 50 Day moving average (yellow line), 200 day moving average (purple line)
If you are bullish on Microsoft given the outlined reasons and believe it can go above the highest point on the chart above, you could consider buying a call option: 
Call Option
buy
+1 MSFT AUG23 370 C $4.20 (Total cost: $420)
Trade Idea
+1 MSFT AUG23 370 C $4.20 (Total cost: $420) 
Max profit = unlimited  
Max loss = cost of the Call option ($420 per 1 lot)