Goldman Sachs' Cautionary Forecast in an Unpredictable Market Landscape
06-07-2023
The stock market has seen a significant upswing with the S&P 500 increasing by more than 25% since its October low. However, Goldman Sachs advises caution, anticipating a possible stock market decline of up to 20% in the coming months if the US goes into recession. 
Many portfolio managers predict a recession within the next year, aligning with most economic forecasts. In a note late last month Goldman Sachs' David Kostin noted that the index might see a 23% drop to 3,400 under such circumstances. 
Given the recent market surge and increasing likelihood of recession given the Fed's recent hawkish tone, Kostin presented five reasons for investors to secure their portfolios. Currently, hedging against downside risks is cost-effective. Goldman Sachs's analysis of put-call skew, a contrarian indicator for future market performance, clearly indicates investors have acquired bullish positions in stocks and indexes. "Given this bullish positioning, the market may struggle to achieve further gains." 
The potential for a market downturn is amplified by a narrow market rally and reduced market breadth. Kostin also highlighted that the S&P 500 trades at a 19x Price to Earnings (P/E) ratio for the next twelve months, placing it in the 88th percentile since 1976. Historically, at this level, a median fall of 14% has occurred over the next year. 
The equity market has projected economic growth of approximately 2%, while Goldman Sachs economists predict a 1.0% average for the second half of 2023. Additionally, current investment trends show a reduction in equity favourability. 
These sentiments were echoed by market expert Ed Yardeni, who emphasized a potential overabundance of bullish investors. Yardeni noted that the bull/bear ratio increased to 3.00 in the week of July 4, the highest since the bull market of March 23, 2020, to January 3, 2022. He cautioned that such high bullish sentiment could be a warning sign.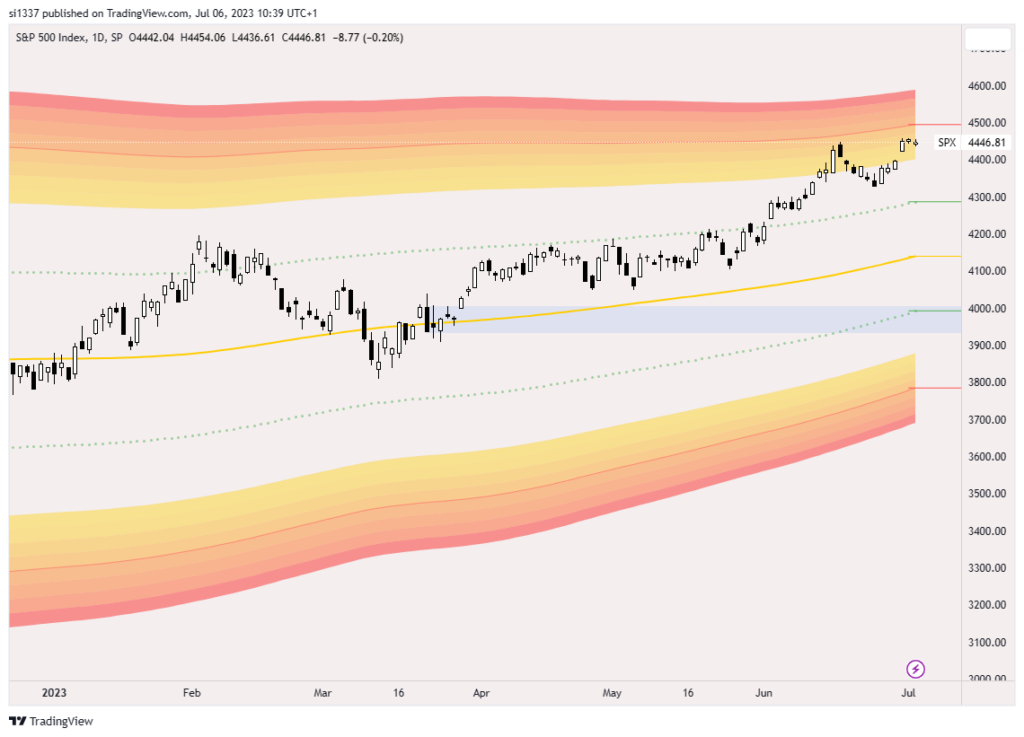 Put Spread
buy
December 4200 put for 82 ($820)
sell
December 3900 put for 45 ($450)
Trade Idea
Buy a December 4200 put for 82 ($820) and sell a December 3900 put for 45 ($450) costing $370 per 1 lot 
Buy a Put
buy
1 4400 Put for 125 ($1250)
Trade Idea
For more comprehensive protection:
Consider buying 1 4400 Put for 125 ($1250)