China's Economy: Awaiting Crucial PMI Data Announcement
29-06-2023
All eyes will be on China this Friday when manufacturing and non-manufacturing PMI data will be announced. Surveys of purchasing managers (PMI) by the National Bureau of Statistics are set to show the result of the manufacturing sector with a consensus of 49. A number at or above 50 would be suggestive growth in the manufacturing sector. The consensus for non-manufacturing PMI IS 53 as opposed to the previous print of 54.
Despite exceeding predictions in Q1, some economists are now revising their projections downward for the remaining year, in light of the underperformance of May's industrial production and retail sales data. 
The government has set a somewhat conservative GDP growth goal of roughly 5% for this year, after significantly underachieving its 2022 target. 
Last Friday, China's cabinet committed to implementing more effective strategies to strengthen developmental momentum, fine-tune the economic structure, and facilitate the economy's consistent recovery, all in a prompt fashion. 
The official manufacturing PMI, which primarily targets large and state-owned companies, along with the services sector survey, are scheduled for release Friday and may have an impact on mining and industrial stocks.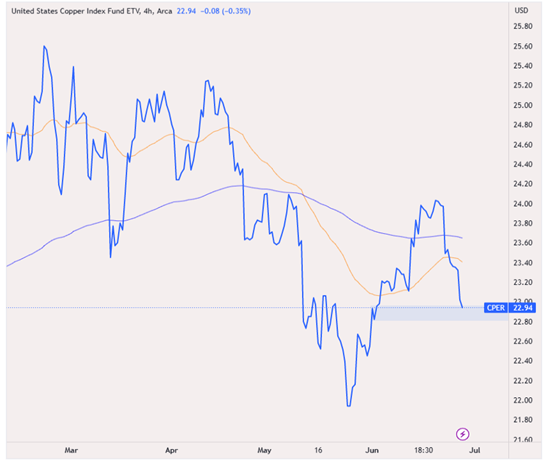 CPER Chart – Entering a key support level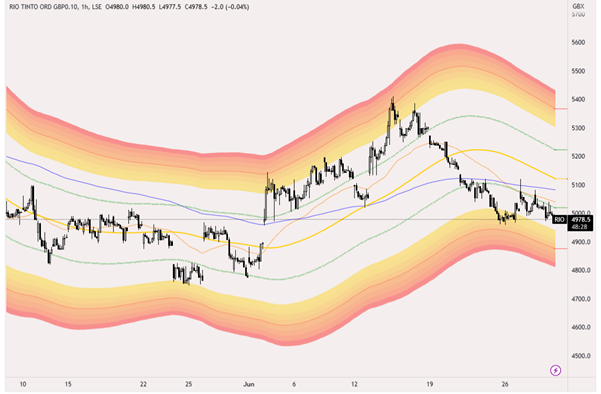 Rio Tinto Chart – Entering the coloured buy zone
Long Call Spread
buy
10 CPER Jan-24 23 calls @ $1.90
sell
10 CPER Jan-24 28 calls @ $0.45
Trade Idea
United States Copper Index Fund (CPER) $22.90
NET DEBIT $1.47
Initial outlay: $1.45 per lot ($1.45x10x100 = $1450 total outlay for 10 lots)
MAXIMUM PROFIT $3,550
Potential profit is limited to the difference between the strike prices minus the net cost of the spread $28-$27 = $5
$5-$1.45 = $3.55 ($3,550)
This would be realised if the CPER ETF is trading at or above $28 on expiry
Long Call Spread
buy
BUY 5 RIO Sep-23 5100 calls @ 150p
sell
SELL 5 RIO Sep-23 5500 calls @ 47p
Trade Idea
Rio Tinto Plc (RIO) 4975p
NET DEBIT: Initial outlay: £1,030 per lot (£1.03x5x1000 = £5,150 total outlay for 5 lots)
MAXIMUM PROFIT £3,550
Potential profit is limited to the difference between the strike prices minus the net cost of the spread 5500p-5100p= 4000p
4000-1030p = 2970p x 5 lots £14,850
This would be realised if Rio Tinto trading at or above 5500p on expiry