22-02-2023
Last week Barclays and NatWest reported earnings that fell short of investors' expectations, while Standard Chartered outperformed. This week, HSBC and Lloyds Banking Group are set to release their earnings reports on Tuesday and Wednesday. In addition to the banking sector, several other companies including Rolls-Royce, Rio Tinto, WPP and Anglo American are also scheduled to report their full-year earnings, which could potentially impact the market.
Being the second-largest producer after Vale, Rio Tinto has a notable reliance on iron ore, which has seen recent optimism in the hopes of growing demand after a turbulent year due to fluctuating demand from China. However, should China's reopening of their economy not go as smoothly as planned there will be a negative impact on the price of iron ore. The company's full-year results, which are due to be released on Wednesday, will likely impact the stock's performance this week.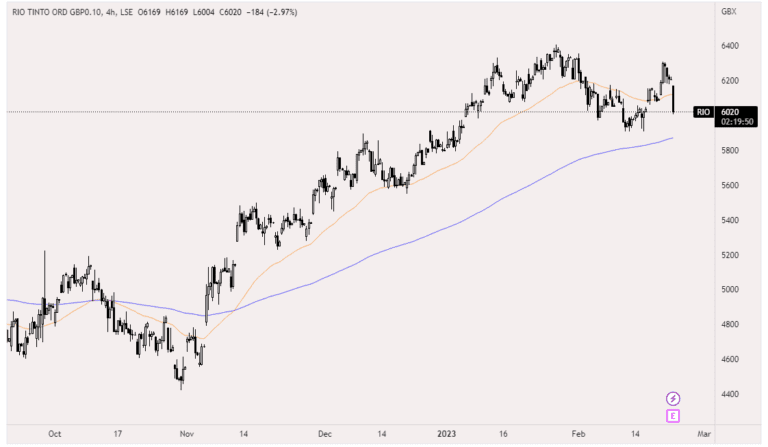 Slower Dividend Growth
Rio Tinto is anticipated to indicate slower dividend growth for 2023. Analysts have expressed a mixed outlook for the stock, with BNP Paribas and CLSA downgrading it, while Morgan Stanley and JP Morgan remain optimistic. With the stock currently trading 6,150p, 44% up since its low of 2022, could slightly worse than anticipated results trigger an overdue pullback, or will it continue to rally? 
If you already hold Rio Tinto stock and are concerned about a potential price decline, using a put spread can provide downside protection. This could be done by buying a put option at a higher  strike price to limit your potential losses if the stock price falls, while also selling a put option at a lower strike price to offset some of the cost.  
Alternatively, if you do not hold the stock and are simply bearish and you do not want unlimited downside risk from shorting the stock, then you could profit from a down move with your risk limited to the cost of the put spread.  
Put Spread
Share Price 6150p
buy
Mar23 6000 Put for 120p
sell
Mar23 5700 Put for 50p
Suggested Trade
Protection from a downwards movement
Stock price: 6150p 
+ Mar23 6000 Put for 120p
– Mar23 5700 Put for 50p
 
Net cost of 70p (£700 per 1 lot of 1000 shares)
Max Profit: £3,000
Max loss: £700
Number of days till option expiry: 25