Going for Gold: Will Gold Keep It's Shine?
12-04-2023
With key US inflation data due this week alongside the FOMC's minutes from their previous meeting the US dollar will be in focus. This in turn will have an impact on the yellow metal – typically a strengthening dollar would be negative for gold prices and inversely a weakening dollar may be supportive of gold prices.  
With global inflation being the major theme of 2023 participants will be eagerly watching the wires in hope of a lower inflation print, amassing the hopes that global central banks will slow their pace or even halt their pace of interest rate increases. These numbers good or bad, to market perception, will have an impact on the Greenback thus feeding through to the price of Gold.
We are looking at GLD, a US Gold ETF. Currently trading at $186.07 as it is at approaching the pivotal resistance zone of $186.10 to $194.5. Moreover, we can see potential gap support below. 
Now depending on your view, we have two interesting options strategies.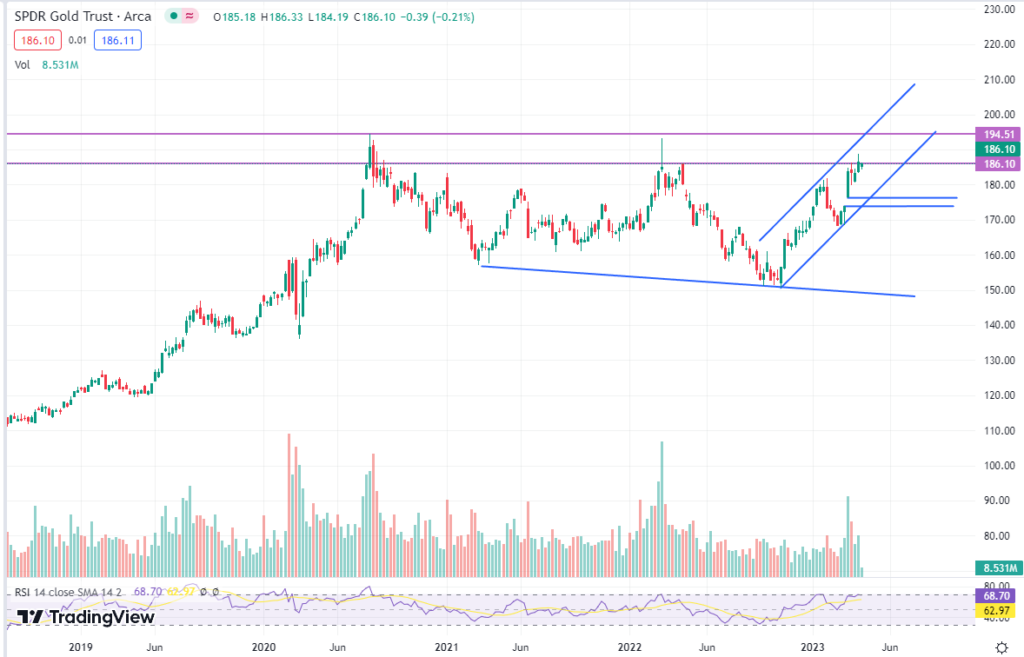 Buy a Call Spread
buy
10 19th May23 $186 call @ $4.55
sell
10 19th May23 $194 calls @ $1.80
Suggested Trade 1
If you believe the price will rise
Total consideration $2.75 x 10 x 100 = $2,750  
Potential Profit $5,250 
Max Loss $2,750
Buy a Put Spread
buy
10 19th May23 $185 puts @ $3.00
sell
10 19th May23 $177 puts @ $0.75
Suggested Trade 2
If you believe the price will fall
Total consideration $2.25 x 10 x 100 = $2,250 
Potential profit $5,750 
Max Loss $2,250